Annual Giving



Gifts of every size position Fresno State for excellence. Supporting Fresno State through annual gifts means not only helping students, but also supporting initiatives that strengthen the community, locally and beyond. Your generosity significantly improves the odds that our students will successfully follow their dreams and seize opportunities granted by a higher education.
Annual gifts to the President's Circle for Excellence help students achieve their full potential by providing support for special programs that will have a powerful impact on improving student success. Gifts to the Fresno State Annual Fund enable President Castro to invest in present and future students through general scholarship awards. Annual gifts supporting specific colleges, programs, or scholarships demonstrate the Bulldog pride we all share as alumni, parents, and friends.
Thank you for supporting annual giving. Because of you, valuable programs and initiatives remain strong.
Annual Gifts
We are continually amazed by the caliber of today's undergraduate and graduate students. With your support, we will provide these students and their professors with the resources they need to be successful and help President Castro and his administration to achieve their ambitious goals for the university and build on Fresno State' distinction.
Thank you very much for your support.
For more information about an annual gift to Fresno State contact:
Patricia O'Connor
Director, Annual Giving
559.278.7392 | poconnor@csufresno.edu
Your leadership helps the President and Fresno State fulfill its mission to boldly educate and empower students for success. The President's Circle for Excellence is an annual giving society dedicated to ensuring positive and enriching student experiences on and off campus. Leadership gifts supporting the President's priorities have proven to have an immediate impact on the lives of students striving to reach their fullest potential.
"Because of gifts like yours, my dream of graduating from college is actually possible. I plan to live up to your belief in me." — Margaret S. from Kingsburg
DISCOVERe
DISCOVERe funds will be used to put tablets in the hands of students and faculty and carefully measure the impact on student success. The program saves students over 73% in textbook costs.
Student Cupboard
Enhances the university's commitment to eliminating barriers to learning by helping students meet basic needs. Thousands of students are grateful.
Good Samaritan Fund
Assists students who face catastrophic events and need short term, immediate assistance to reach graduation.
President's Fund
Supports critical programs dedicated to academic excellence and student success.
Your annual contribution through the President's Circle for Excellence helps Fresno State invest in what's centrally important: students. Your generous donation provides an "enhanced margin of excellence" that enables Fresno State to "be bold!"
$1,000 — Annual gifts of $1,000 or more will be recognized in the Donor Honor Roll and receive an invitation to the annual donor appreciation and outreach reception.
If you have questions please contact:
Patricia O'Connor
Director, Annual Giving
559.278.7392 | poconnor@csufresno.edu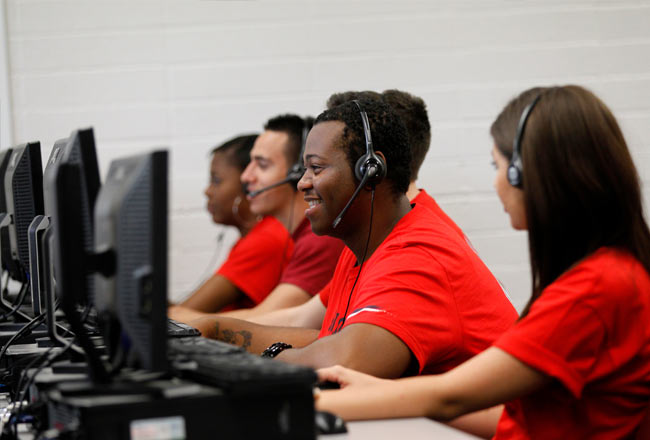 The Fresno State Calling Program is dedicated to helping alumni, parents, and friends of the University stay connected to Fresno State. Since the revitalization of the calling program in 2007, callers have raised more than $1.5 million and over 52,000 gifts for Fresno State.
Who is calling me?
The Fresno State Calling program uses a third-party vendor, Ruffalo Noel Levitz (RNL) to communicate with alumni, parents, and friends on behalf of Fresno State. By utilizing a third party vendor, we can reach targeted audiences and get strong results.
Where is the call center located?
The call center is located in Cedar Rapids, Iowa. All calls from the call center will show up on your phone as 559.278.0000. This includes calls from the call center and most calls from Fresno State.
When should I expect a call?
The majority of calls occur during the evening, Sunday through Thursday to reach you after the work day. Occasionally calls are made during the day or on Saturdays.
Where did you get my information?
When you graduate from Fresno State you leave us your current contact information. For many alumni, this information changes over the years. Rather than continue to rely on incorrect data, we update your records with information that is public record to ensure that we can continue to communicate with our alumni and friends.
What is the Annual Fund?
Through the call center you can donate to any aspect of the University's Annual Fund. Our donors support their previous majors, college, scholarship programs or any area of the University that they feel connected to. We encourage our donors to support the area that best suits their interests and passion for Fresno State. Please contact the Office of Annual Giving at 559.278.7392 if you want more information about different areas where you can donate.
Why is supporting the University's Annual Fund so important?
Your support of the Annual Fund helps Fresno State continue to boldly educate and empower students for success. With your support, our students are able to fulfill their dream of a higher education. Strong alumni support of our university helps our national rankings and increases the value of the education that you or your family received at Fresno State.
Why do you ask that we fulfill our pledge with a credit card donation?
By fulfilling your pledge with your credit card you help us cut down on our administrative costs. After you make a pledge to Fresno State, we follow up with you via mail and email. When you fulfill your donation with your credit card you lower Fresno State's print and postage costs.
Why do you ask for a minimum amount of a gift?
Our gift administration office must process all gifts that are received by Fresno State. Regardless of the gift size, these donations are treated with the same attention and care. Requesting a minimum donation helps us keep our processing costs down. Additionally, when you pledge a confirmed dollar amount, we are able to notify the college or program that will be receiving your donation and they are better able to budget for their incoming donation dollars.
What happens after I make a pledge through the Call Center?
You will receive a pledge confirmation letter in the mail. You can pay your pledge using the reply card and envelope that is provided in this letter. You can also sign online and make a payment on your pledge at www.fresnostate.edu/advancement/giving
How can I make a greater impact with my donation?
Many employers participate in matching gift programs. Through these programs your employer can double or even triple the impact of your charitable donation by matching your gift. Please talk to your Human Resources department to find out if your company participates in this program or call us for more information.