Support Fresno State
At Fresno State we have never been more engaged in fulfilling our academic potential than we are today. Our students and faculty are advancing the academic reputation and distinctiveness of our university every day. The success of our university community is having a positive impact on our region, state, nation and the world.
Changing Lives and Building Futures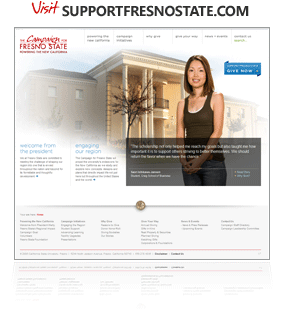 With your support, Fresno State can become one of the nation's best engaged universities — recognized for our ability to engage a diverse group of students in learning and for the ability to become actively involved in a region and contribute to its transformation.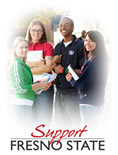 As a public institution, the university depends on the generosity of donors to transform our university from good to great. Private support makes a significant difference in the quality of our programs, our students' lives and the campus. It represents the roots of the university's growth and is vital to achieving the vision and solving the challenges that lie ahead.
Find out more at the Support Fresno State Web site.